Focussing on the child and his health – Events for children/ families/ groups/ schools/ kindergartens
What would life be like without children? How near and dear they are to us!
The theme health affects even the youngest of us – and their social environment – starting with the family and far-reaching in the different organisations where they go in their free time.

CHILD AND HEALTH
MHM considers itself your companion and advisor.
Contact »
In co-operation with selected competent partners, our colleague Heike Siekiersky – MA Pedagogy-offers events on various priority topics
Nutrition – fun with eating healthily starts already with the little ones.
Theme – obesity -" Well-built kids"
Relaxation – relaxation techniques for children.
Learning  – what kind of learner am I ? Some need complete quiet and solitude, others can't sit still, some like to get up early, others are night owls, some learn texts and facts easily, others need pictures and fantasy – we will help you to find the best learning methods for your child.
Nicknames given to kids for example who wear glasses, can cause stress even to the smallest ones.
CHILD MOT  – in Palmaclinic  for children aged between 6 and 12– in search of the treasure of health (an event in German, Spanish and English).
At various checkpoints, information about body data will be collected and recorded during playful tests dealing with mobility, dexterity, attention, senses and other main issues to do with health.
The event can be tailored  to its target group at any time. The parents are involved and get the results with individual recommendations.This event is transferable and easily adapted to the needs of the target group.
"What little Hans doesn't learn…"  cookery courses for little ones – here the way is paved to a healthy diet in collaboration with nutrition coach – Elisabeth Wiehart.
"Well-built kids" – my child is too fat! Obesity in children- , reasons, possibilities and first measures – informative event in your organization in co-operation with you and the parents.
"Kringelthings" – an intensive week accompanied by one of the parents with games,fun, movement and a first step towards change – as long as all play along. The child lives in his family and social environment where it has led to him becoming overweight – for a long term change it is absolutely necessary to work closely with the parents. A first impulse can be set in our all-round intensive week for 'well-built' kids.
"Learning to live" – even small children have early experience with stress – in school ,family and with friends. What kind of learner is your child? What kind of conditions are ideal? Which situations can cause stress and how does your child deal with it?
On your own it often seems impossible to meet the appropriate requirements – we offer counselling, help and support and all this in a holistic way using cross-systems. When one learns as a child
how to deal with stress situations this lays the first stone for our future development and enables us to create more health awareness.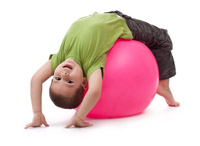 MHM actively supports with its varied therapeutic possibilities.
Disability: You want to travel with your child who is limited due to a physical or mental disability. Sometimes you need support with the care and want to know that he/she is well taken care of when you have some time for yourselves. You would like therapeutic child care during your holiday and /or further treatment for your child? Ask us- we will find the right offer for you.