Measures for rehabilitation -post operative and non-surgical.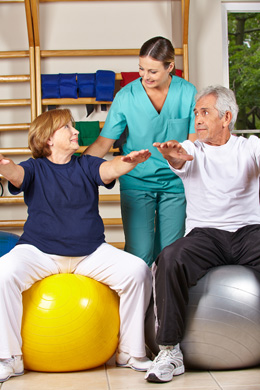 After intensive surgical interventions and/or different kinds of treatment (operations,chemotherapy, other surgery) you feel drained, unsure, lacking in energy and sometimes helpless.
We invite you to treat yourself to your own personal rehabilitation programme on Mallorca.
We will organise your individual package- your stay in a very good 4-5 star hotel, a medical check-up and formulation of your personal reha plan, as well as complete care from our qualified competent partners (doctors, physiotherapists, ergotherapists, nutrition coaches etc.)
Naturally we will be on hand daily with help and advice during the whole rehabilitation period on Mallorca.
The arrangement of the individual programme and the subsequent further treatment is always carried out in co-operation and consultation with your main doctor. Naturally we can also help you
Rehabilitation
Recharge your energy and reactivate your power. Regain your performance and resilience in every day life.
We want you to feel well again!
Contact »
Cardiovascular / pulmonary rehabilitation
Working together with our internal medicine /medical centre, we offer heart and lung patients a comprehensive programme covering all main issues concerning heart, circulation, vascular and lung illnesses.
Duration of exercise : two to four weeks
Sequence of programme
Medical status report with case history and risk strategy
Where necessary an ECG or cardiac stress test ( spiroergometry stress test etc.)
Holistic treatment concept as well as an individual training programme after stress echocardiography.
Programme content
An individual programme will be put together depending on requirements and test results:
Physiotherapy – individually tuned and adapted (respiratory therapy, manual therapy and classic physiotherapy.
Physical therapy treatments (massage, connective tissue massage,water therapy etc)
Heart rate control and specific medical training therapy MTT.
Nutritional counselling
Psychotherapy support
Anti-burnout care – self-management
Group therapy (yoga, Tai-chi, pilates etc).
Post-operative Rehabilitation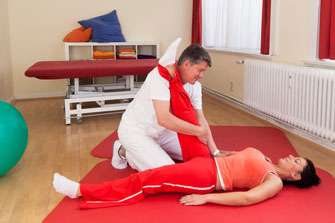 With a disciplined approach, a gradual step by step programme will be created to suit you.
Following the orthopedic/neuro-surgical operation and the direct reha phase( which took place in the previous 2-6 weeks) , the first exercise/ movement units have already been completed and some body functions are now stabilized. There is now a certain independence and security in everyday life.
Now a specific intensive and structured programme can be started in order to recuperate capability and zest for life as quickly as possible.
Process duration two to four weeks
Content
Medical status report with case history/examination/results, also control of actual post-operative status and performance.
Definition of objective with clear improvement of current functional status after surgery.
Preparation and implementation of an immediate individual rehabilitation plan and also a personal after care plan for using at home.-Intermediate checks and direct consultations with other therapists as well as a final examination/report.
Content
Depending on the requirements/test results – an individual health programme will be developed:
Physiotherapy
Medical training therapy
Balneotherapy (all kinds of water therapy)
Physical therapy (massage/lymph drainage/electro therapy etc.)
Explanation and instruction to establish movement training (eg.knee and back ).
Psychotherapeutic care
Group therapy.