Swimming, bathing, showers despite plaster !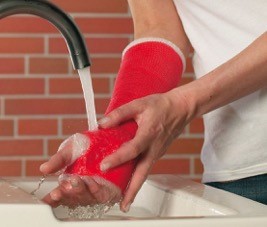 The desire of the patient in the course of a treatment always the most optimal possibilities to get is understandable. Never fits the injury, it bruises, fracture and but also after a postoperative care so really a resting in the "plan". Just now and why I ?! … you always hear again. The most important medical indication for resting in combination with improved everyday suitability has now been successfully developed. The previous restorations with conventional plaster were mostly very difficult, absolutely waterless, and thus the daily life as well as the holiday benefit of the patients but considerably restricted. The solution for an unrestricted use, even in everyday life, despite the use of gypsum dressing, is a special cushioning material under a modern ultralight synthetic support band.
The material is waterproof, breathable and washable, allowing the patient to shower, bathe or even swim, despite a so-called stable cast dressing. Even the necessary rehabilitation measures can now be carried out successfully without problems thanks to this special technique. By means of this innovative three-dimensional construction made of water-resistant fibers developed in medical technology, a required stability with wear comfort could be achieved. The open fabric structure allows the water to drain from the casting belt, while the residual moisture evaporates with the aid of the body's heat. Most dressings dry within approx. 90 min.
An adhesive coating facilitates the installation and prevents slipping of the bandage during the dressing. The risk of skin macerations, pressure points as well as smell and skin jumps is reduced by the special under-cushioning. With sufficient experience in plastering and learning the new materials for the experienced orthopaedist absolutely no problem. In Bendinat at MediSport-Mallorca, the orthopedic / traumatologist and experienced sports physician Dr. Marco SEITA (0034-661939395) – has made very good experiences and uses this new technique as a matter of course, along with other specialist associations such as Kinesiotape / Sporttape / Special Ointment Associations regularly as part of its conservative treatment concepts.
INFOS: info@medisport-mallorca.com